Vocational training
Industrial clerk:
Your job with a future.
Are you interested in how natural gas makes its way to people and who transports it? Well that's what we do! With our long-distance pipeline network covering 12,000 km, we are one of Europe's leading gas transportation companies. To ensure it all functions well, we need people on both the technical and the administrative sides. And that's where you come in: As an industrial clerk, you'll help us manage and steer our business into the future.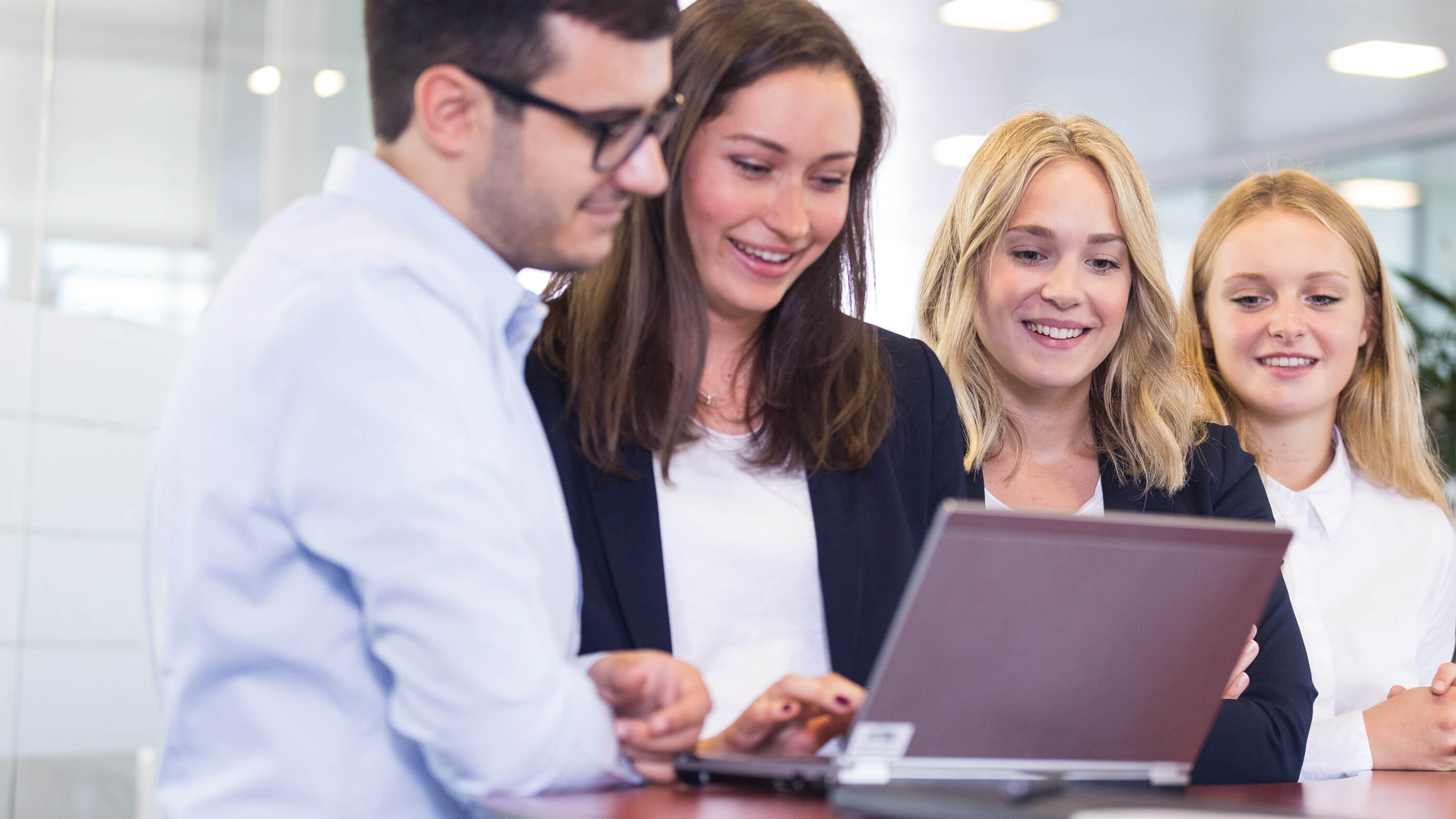 During an apprenticeship as an industrial clerk at OGE, you will work in the departments that form the backbone of our company. These include, among others, the HR department, materials management and accounting.
With us, you'll learn about important areas that are essential for a company to run smoothly. You'll also experience up close how commercial and political decisions can affect a company.
Using modern communication technology, you will manage data, check figures and control processes –activities that are essential for your future profession.
Are you interested in a varied apprenticeship that is anything but boring, and are you motivated to come and work with us? Then an apprenticeship at OGE is exactly the right choice for you. We look forward to your application!
You can find all our apprenticeship vacancies here:
Your apprenticeship at a glance
Duration of the apprenticeship
The apprenticeship begins every year in August. It normally takes three years, but this can be reduced in certain circumstances.
Location of the apprenticeship
In Essen at Open Grid Europe and at Robert-Schuman-Berufskolleg in block seminars.
Who we're looking for
A completed school education including a qualification at high-school level or above, with good grades in German, English and maths
Notable interest in commercial matters
Capacity for engaged work as part of a team, but also concentrated work alone
Enjoyment of using modern IT systems
Openness and pleasure in dealing with other people

What we offer
Intensive support during your apprenticeship
Flexible working hours (38 hours/week)
Several meet-up days before your apprenticeship, an exciting induction week together with all other new apprentices and various seminars during the apprenticeship period
Low-cost use of a fitness studio in Essen
Low-cost lunch in the company's own canteen at the Essen sites
Attractive fringe benefits such as special payments, Christmas bonus, travel allowance, exam preparation courses, company pension plans and much more
Joint activities with colleagues, such as team events, company runs, parties and much more