Construction projects
Project of Common Interest (PCI): Die
TENP-Deodorierungs­anlage
In view of current plans to increase the flexibility of gas transmission from north to south and south to north, TENP has decided to build a gas de-odorisation plant. It will developed as a joint project of Open Grid Europe GmbH and Fluxys TENP GmbH and subsequently operated by Open Grid Europe GmbH.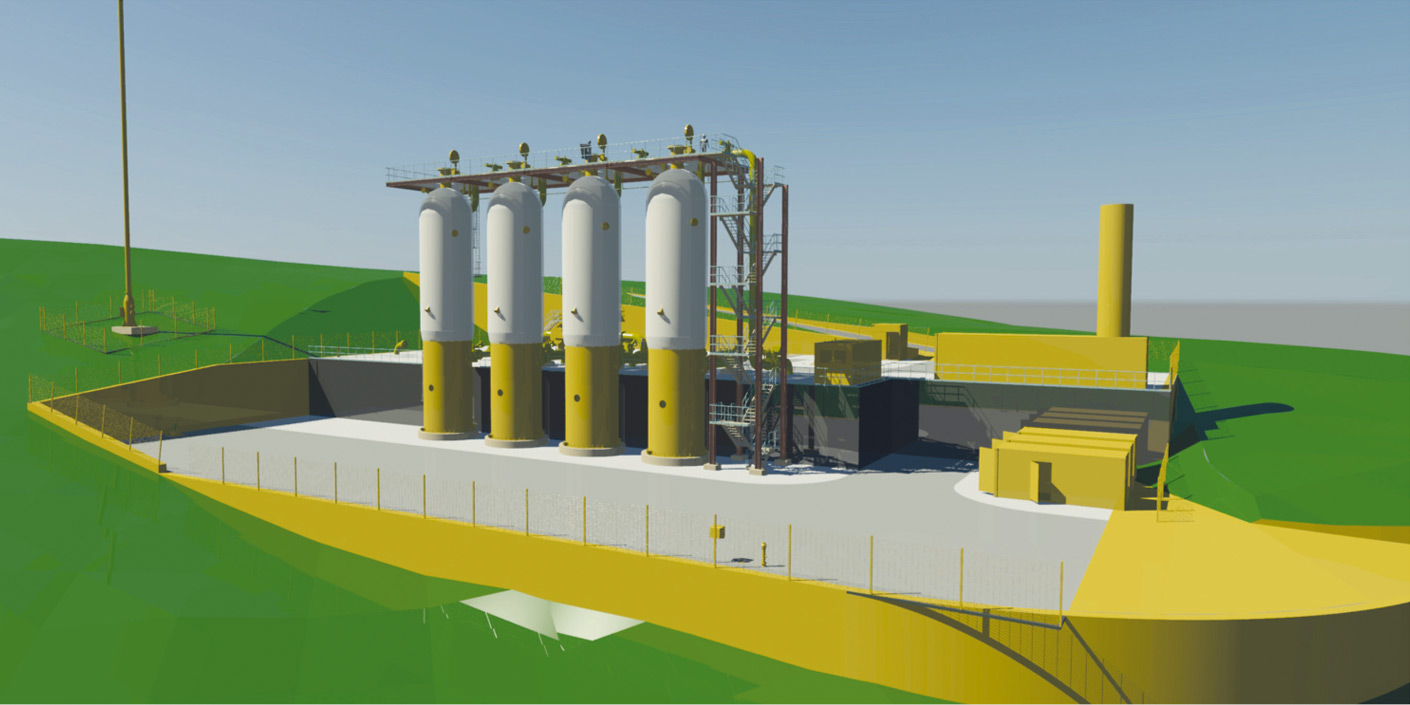 The project involves the construction of a plant to remove the odorous substance (odorant) tetrahydrothiophene (THT). THT is an odorant that is widely used in the French high-pressure gas transmission system, but is only added to the German pipeline network when the gas is transferred to the downstream distribution grids. Due to the technical requirements associated with gas transportation, it is not used in the German high-pressure transmission system.
Natural gas entering the TENP pipeline system at the Wallbach border crossing for transportation from south to north can therefore contain varying concentrations of the odorant THT. For transportation and consumption in Germany, the gas must therefore be treated so as to limit the THT concentration.
The odorant is removed using fixed bed adsorbers, as is common practice in gas treatment plants. The natural gas is piped through the de-odorisation plant, which essentially consists of four adsorber towers with the necessary ancillary equipment.
Given the European character of the TENP pipelines, which connect several countries, and the special position in Germany, the TENP de-odorisation plant has the status of what is known as a Project of Common Interest (PCI) and is therefore funded by the European Union under the supervision of INEA (Innovative and Network Executive Agency). EU Regulation 347/2013 on guidelines for trans-European energy infrastructure (TEN-E Regulation) thus applies.
"The authority generally responsible for coordinating the approval procedure according to the TEN-E Regulation is the Federal Network Agency (BNetzA), which has now officially transferred its competence to the regional authorities ("Regional Council") in Freiburg. The approval procedure will therefore be managed by the Regional Council / Department 24."
2014

Decision taken enhance the flexibility of gas transmission in line with demand

2015

Cooperation agreement between OGE GmbH and Fluxys TENP
Project included in the 2015 Network Development Plan (NDP)
PCI status confirmed by the EU

2016

Process of finding a suitable site
Consultation with the authorities, municipalities, public interest parties and bodies
Start of work for the regional and environmental planning reports by independent experts

2017

Applications for approval submitted to the competent national authority

2018

Approval granted
Final investment and financing plan, award of construction contracts
Start of preparatory construction work

2019

Construction / installation of the plant and connecting pipelines

2020

Acceptance and commissioning