Date
28 Feb 2020
Location
Essen
Publisher
OGE
Press release
OGE to install new gas pipeline section in Altena
As part of regular inspection and maintenance activities on its gas pipelines, OGE will replace a section of the "Südwestfalen pipeline" near the local tax office in Altena from the start of the Easter holidays (6 April 2020).
The pipeline, which runs under the B236, will be replaced over a length of 870m. Due to the tight space situation, the pipes can only be removed and installed in sections. The construction work is scheduled to be completed by mid-September 2020.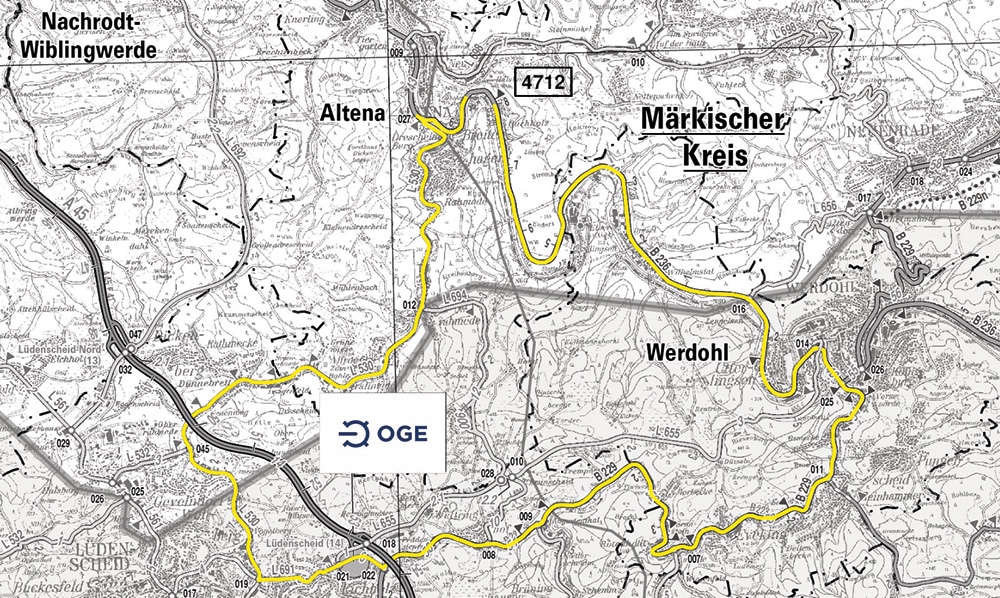 The traffic will be diverted as agreed with StraßenNRW and the town of Altena. The diversions will be signposted over a wide area. The tax office building will remain accessible throughout the construction work.
The "Südwestfalen pipeline" has a diameter of 500 - 700 mm. It is operated at a pressure of 8 bar and spans a distance of 140 km from Dortmund to Siegen. The pipeline supplies gas to a large number of regional customers and downstream utilities in the region.