Import projects
OGE is actively shaping the energy transition in Europe
Get an overview of exciting projects we are working on with our partners from industry and the energy sector.
Alongside our initiatives and alliances at EU level, we are pursuing specific projects with a European scope. One focus here is on the import corridors through which hydrogen will be transported to Germany in future and then fed into the H2ercules network. To diversify the import routes, we are developing projects with partners in all directions that are closely connected to the H2ercules network.
Through our active engagement and cooperation with various actors at EU level, we are aiming to make a significant contribution to the successful implementation of the energy transition. At OGE, we are proud to be part of this pioneering development and to actively help shape the future of the energy supply.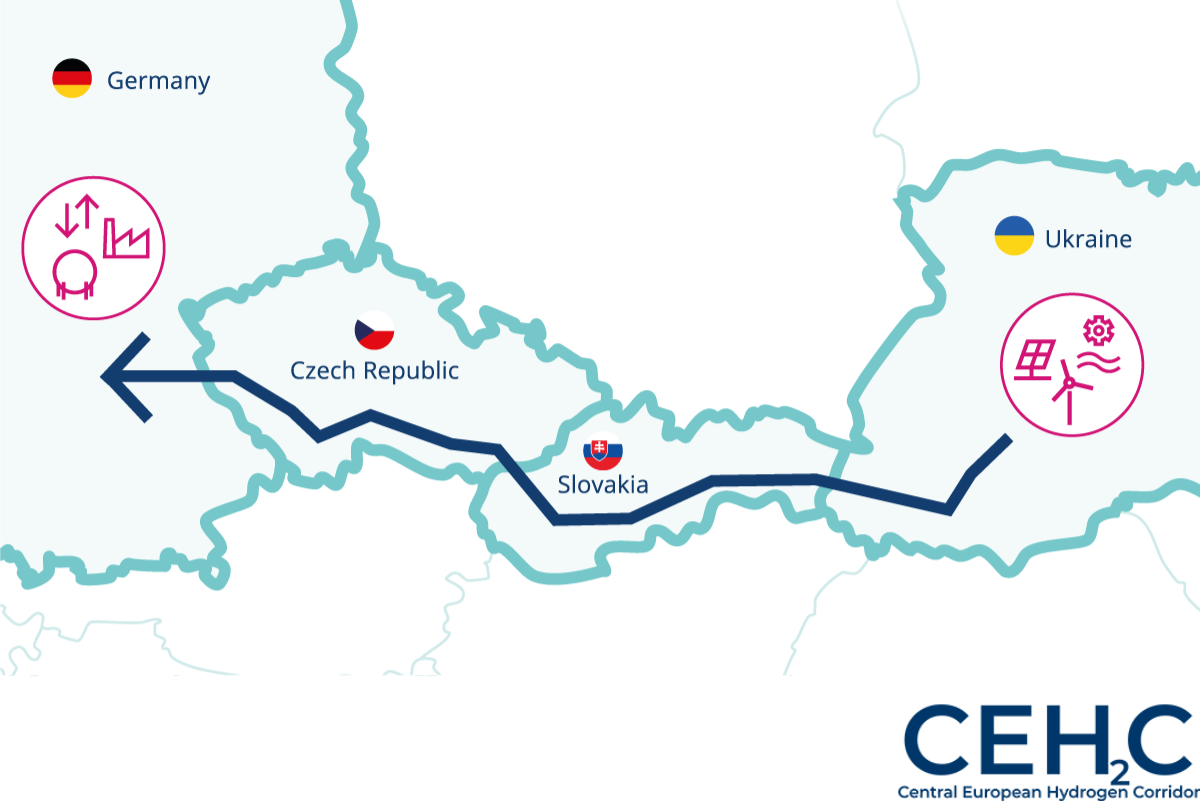 Central European Hydrogen Corridor (CEHC)
The "Central European Hydrogen Corridor" initiative was launched in 2021 by four gas infrastructure companies (OGE, NET4GAS, eustream, Gas TSO of Ukraine) with the aim of developing a hydrogen "highway" across Central Europe. The initiative is investigating the feasibility of creating a hydrogen pipeline corridor in Central Europe to transport hydrogen from key production sites in Ukraine via Slovakia and the Czech Republic to demand centres in Germany.
Through the repurposing of existing gas infrastructure and targeted investments in new hydrogen pipelines, it should be possible to ensure efficient and cost-effective transport over long distances.
More information is available on the project website cehc.eu.
---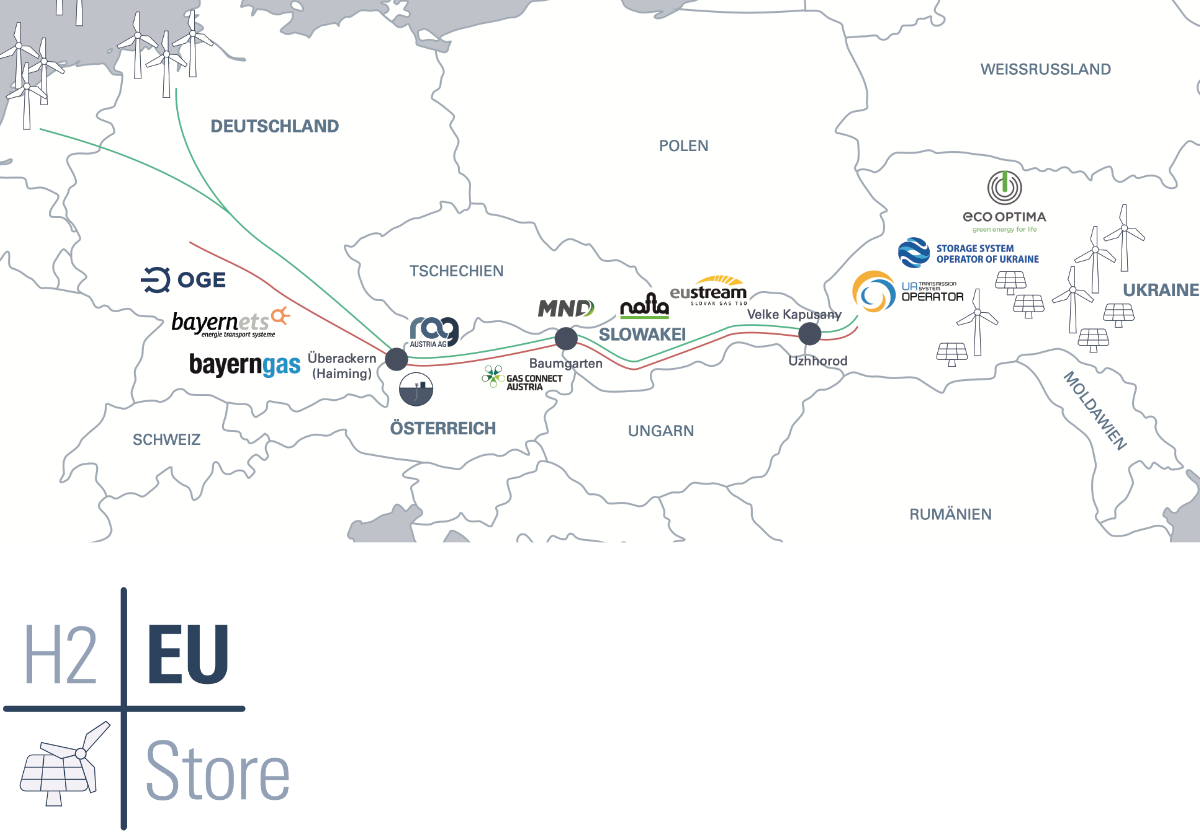 H2EU+Store
The international industry partnership "H2EU+Store" is planning the production and storage of green hydrogen for a climate-neutral energy supply in Europe. Renewable electricity and hydrogen are to be produced in Ukraine and stored in Central Europe.
The project, which is being developed in collaboration with industry partners, includes the expansion of production capacities in Ukraine and storage volumes in Austria and Germany. Ukraine offers great potential for renewable energy and has the infrastructure for hydrogen transport. "H2EU+Store" links up to existing hydrogen network projects in Bavaria and lays the foundations for the development of a hydrogen infrastructure in the region.
More information is available on the project website h2euplusstore.com.
---
HyDeal Ambition
After two years of research and confidential preparation, a group of 30 pioneering European energy players officially launches "HyDeal Ambition" with the aim of delivering 100% green hydrogen across Europe at €1.5/kg before 2030.
The ambition is to achieve 95 GW of solar and 67 GW of electrolysis capacity by 2030 to deliver 3.6 million tonnes of green hydrogen per year to users in the energy, industry and mobility sectors via the gas transmission and storage network.
A phased approach is anticipated with first deliveries in Spain and the Southwest of France followed by an extension towards the East of France and then Germany.
This innovative project goes beyond the simple production of truly green or climate-friendly energy. It lies in particular in the price to be delivered to customers at fossil fuel parity, making the transition to a carbon-neutral economy a self-evident perspective.
For more information, go to hydeal.com/hydeal-ambition.
---
H2morrow
Germany wants to be largely greenhouse gas neutral by 2050 – without jeopardising its economic and innovative strength and security of supply. Many experts are convinced that hydrogen will play a major role in this. But where will tomorrow's climate-neutral energy come from? Equinor and OGE are answering this important question with their joint project "H2morrow".
H2morrow provides a pragmatic solution for the rapid decarbonisation of all energy sectors. The pioneering project is setting new standards: By reforming natural gas imported from Norway, base-load hydrogen can be produced at competitive costs. At the same time, a regulated hydrogen infrastructure can be created by converting existing gas pipelines to pure hydrogen pipelines. The CO2 produced in the reforming process is captured and safely stored under the seabed in the Norwegian North Sea.
It should already be possible this decade to supply industry and other end users in North Rhine-Westphalia with 8.6 terawatt hours of hydrogen per year from decarbonised natural gas. This will reduce the carbon footprint by 95 percent and help avoid carbon emissions of up to 1.9 million tons per year.
---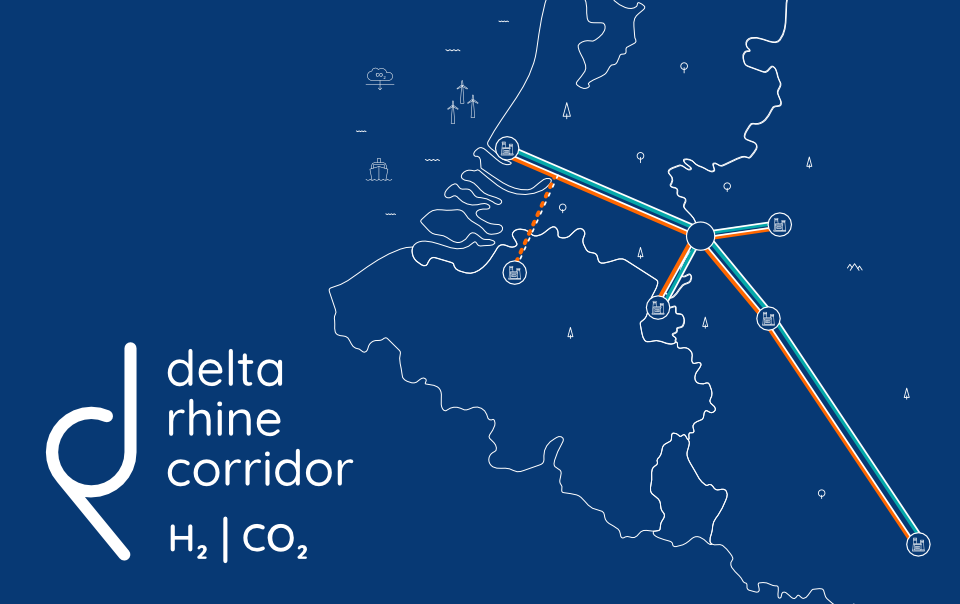 DRC
We all want a secure supply of climate-friendly energy. This requires good ideas, committed companies and the right political framework, all of which are to come together in the Delta Rhine Corridor (DRC) project.
DRC is a cross-border infrastructure project that enables the transport of H2 and CO2 and supports climate targets in Europe. BASF, Gasunie, OGE and Shell are working together on a cross-border pipeline infrastructure between the Netherlands, Germany and possibly Belgium. The project promotes CO2 transport and storage, as well as the provision of low-CO2 hydrogen as an energy carrier along the route, contributing to industry, innovation, job security and the energy transition in Europe.
More information is available on the project website delta-rhine-corridor.com.
---
CGHI
The vision of the Czech German Hydrogen Interconnector (CGHI) initiative is to create a hydrogen interconnector pipeline linking areas with high hydrogen potential in Northern Germany and the Baltic States with demand centres elsewhere in the EU. In addition, the initiative will also enable the connection of local suppliers and consumers along the corridor. The initiative was launched in 2022 by three gas infrastructure companies, namely GASCADE, NET4GAS and OGE.
The project is expected to be operational by 2030, with subsequent transport capacity of up to 144 GWh of H2 per day or 1.5 million tonnes per year. The total length of the corridor amounts to 1,068 km.
More information is available on the project website cghi.eu.
---
SunsHyne
The SunsHyne Corridor is a strategic infrastructure initiative launched by a group of five leading European gas transmission system operators (Snam, TAG, Eustream, NET4GAS, OGE). The aim is to facilitate green hydrogen flows from North Africa to Germany, via Italy, Austria, Slovakia and the Czech Republic.
In line with the vision of the RepowerEU package, this initiative provides a concrete roadmap to realise the ambitions set out in the European Hydrogen Backbone. The aim here is to repurpose existing natural gas pipelines for hydrogen transport and to build new transport infrastructure where necessary. This will make it possible to transport a significant part of the 10 million tonnes of green hydrogen that the EU plans to import from third countries.
More information is available on the project website sunshynecorridor.eu.
---