Responsibility
Our reduction targets for greenhouse gas emissions
OGE is committed to climate protection: We are aiming to reduce the greenhouse gas emissions from our gas transmission system by 45% on 2009 levels by the year 2025. This way, we aim to make a further contribution to the transformation in the direction of climate neutrality and to shoulder our responsibility for the energy transition.

With our 12,000 km pipeline network and the 22 compressor stations we operate, we are helping to shape energy supply in Germany. Our infrastructure makes us one of the leading transmission system operators in Europe. At the same time, we place great emphasis on making a meaningful contribution to the success of the energy transition in Germany and to climate protection.
Why is it important to reduce greenhouse gas emissions?
Emissions of greenhouse gases (GHGs) like CO2 are a factor in manmade climate change and must be reduced further. Germany has set itself the goal of becoming climate-neutral by 2045, so we need to continually reduce our GHG emissions on the way there. GHG emissions occur in many areas of human life: in agriculture, for example, from road traffic, in energy generation, and also in gas transportation.
Where GHG emissions occur in Germany
Figures from 2019/2020
At 30 percent, the energy industry accounts for the biggest share of emissions in Germany. In 2020, its greenhouse gas emissions amounted to 221 million tons of CO2 equivalents, which corresponds to a reduction of 53 percent compared to 1990 levels. The emissions in the energy industry occur as a result of burning fossil fuels to produce electricity and heat, as well as in refineries and in fossil fuel transportation by pipeline. Furthermore, the energy industry is also responsible for so-called fugitive emissions. These occur, for example, as leaks of coal-bed methane from abandoned mines or methane from natural gas transmission systems.
How GHG emissions are developing in the energy industry in Germany
By 2030, the greenhouse gas emissions of the entire energy sector will have to be cut to 108 million tons of CO2 equivalents. OGE is rising to the challenge: We aim to further reduce our greenhouse gas emissions significantly over the coming years.
Where do GHG emissions occur in our gas transmission system?
Firstly, we need energy to get the gas from A to B. That energy is predominantly provided by natural gas, which is primarily to drive the turbines that propel gas through our grid system. Secondly, we need electricity for our electric compressors and to run our plants, and this energy demand results in CO2 emissions. Thirdly, gas transportation produces a small quantity of methane emissions, for example when we carry out maintenance work on individual sections of the network. You can find more information on methane emissions here.
Our greenhouse gas emissions reduction targets
To achieve our shared climate targets in Germany and Europe, we need to cut GHG emissions in all areas, which is why we at OGE set ourselves ambitious reduction targets.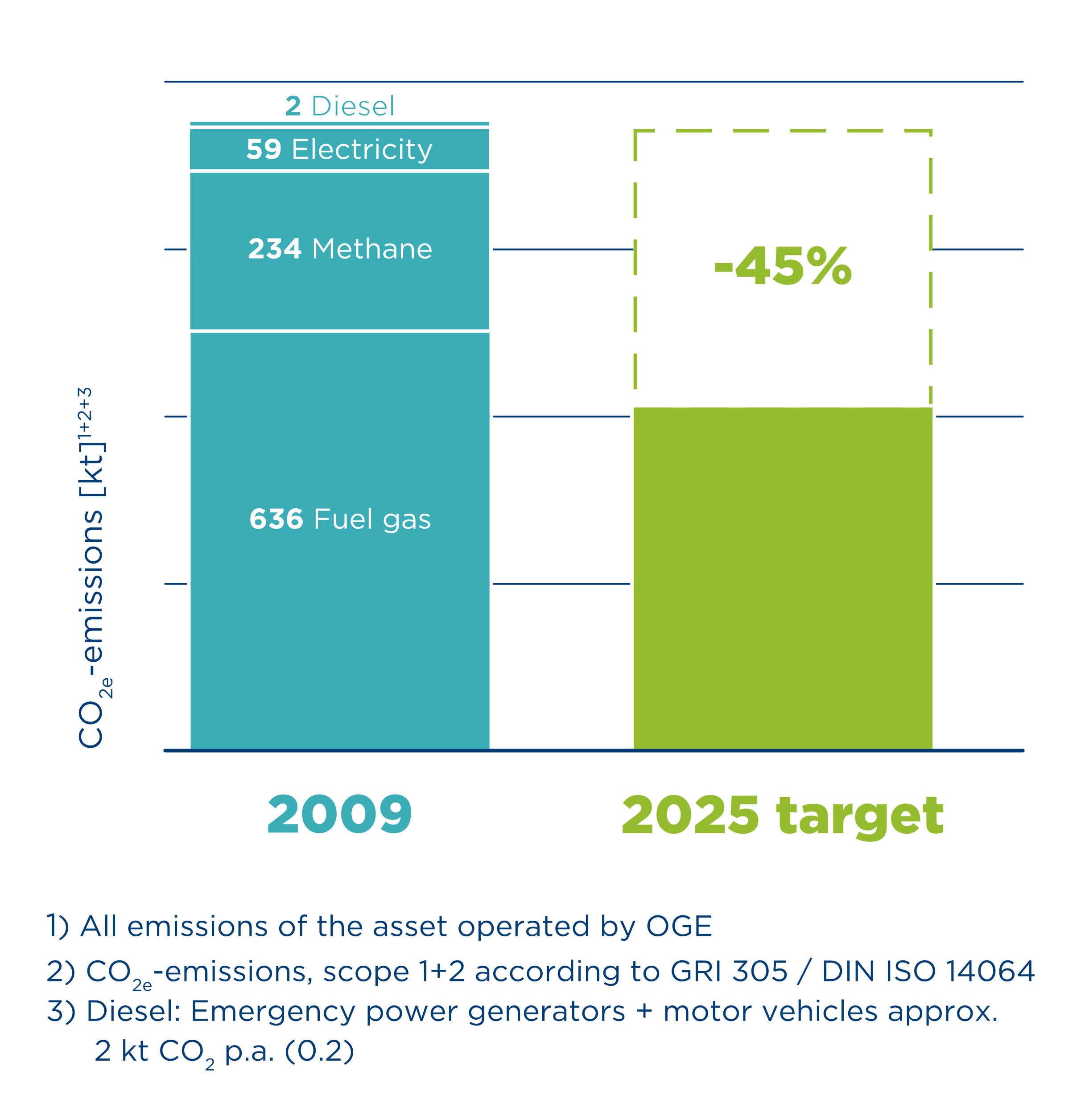 We aim to produce 45% fewer GHG emissions by 2025 compared to 2009 levels, so we are taking action wherever our gas transmission activities produce emissions.
We have identified the necessary measures for emissions reduction and are putting them into practice. These include procurement of green electricity for our electrically powered compressors and for the company as a whole, as well as biomethane as a component of the fuel gas we use for gas turbine driven compressors. To reduce methane emissions, for example, we use mobile compressors. We are also planning to gradually improve the efficiency of our network and the plants we operate.
Over the coming years, OGE will be actively reducing its greenhouse gas emissions according to the principle: avoidance, reduction – and only then compensation. If the measures we have planned are still not sufficient, then we will purchase emissions reduction certificates for climate protection.
With these measures, we will achieve our goal and thus make gas transportation on OGE's network lower in emissions.
---