Vocational training
Industrial mechanic with a parallel degree course:
Your job for even more versatility.
Are you interested in how natural gas makes its way to people and who transports it? Well that's what we do! With our long-distance pipeline network covering 12,000 km, we are one of Europe's leading gas transportation companies. To ensure it all functions well, we need people on both the technical and the administrative sides. And that's where you come in: As an industrial mechanic, you will help us to keep our technical systems in good condition so we can keep supplying our customers reliably and affordably.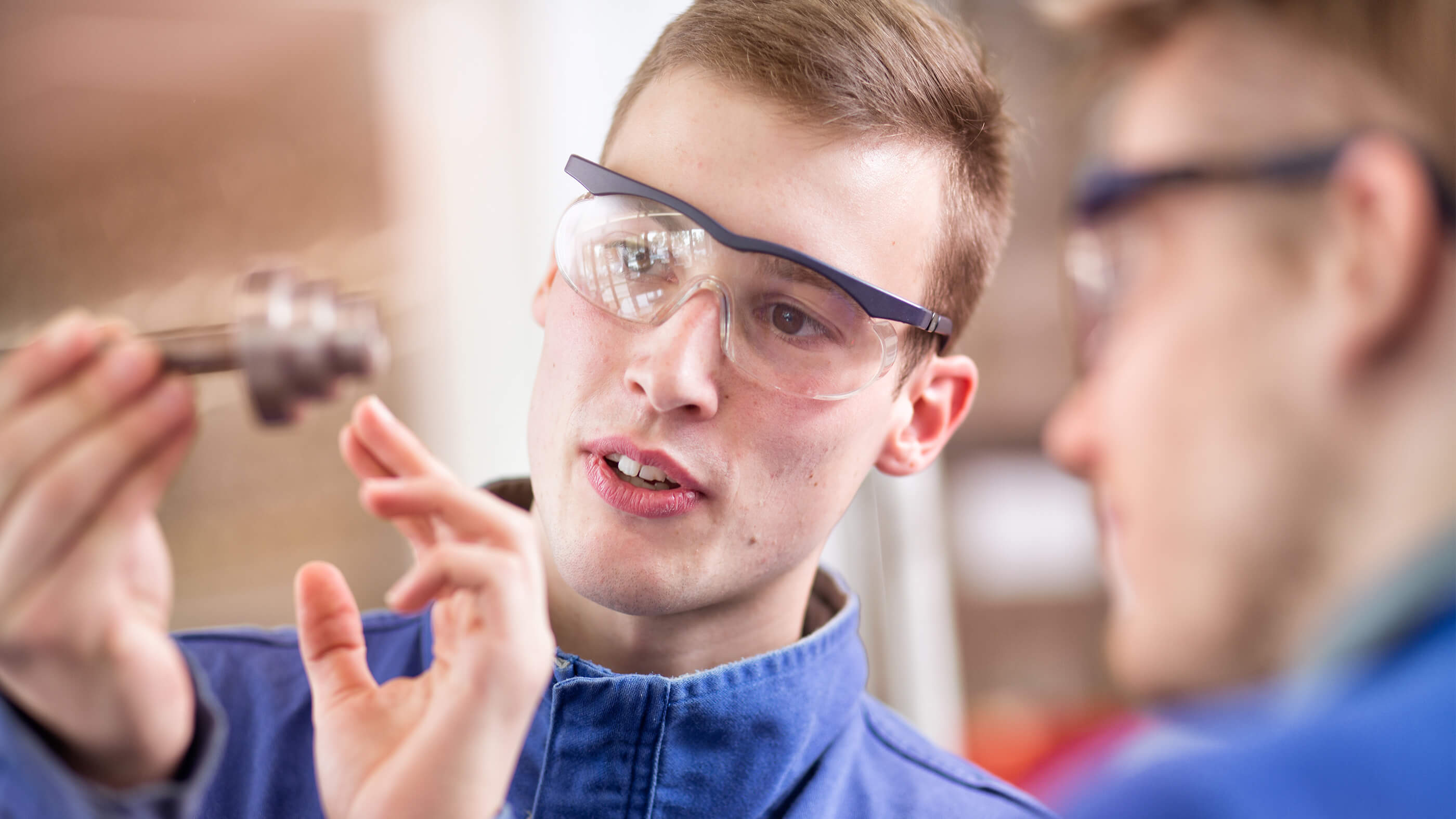 Just as a haulage company has to regularly check and maintain its trucks before long journeys, we too have to keep our pipes and compressors in order to be able to guarantee smooth gas transmission. Our technicians and mechanics use state-of-the-art equipment to ensure a flawless gas network and take mobile compressors to jobs all over the country. They also take care of the maintenance of our plants.
You can be sure of a great deal of variety when you begin an apprenticeship as an industrial mechanic with a parallel degree course at OGE. With us, you'll learn to understand technical drawings, to work professionally with various tools and to use modern machines, like a computer-controlled lathe, to produce workpieces.
You operate machines and systems and are likewise involved in their maintenance and servicing. You will also use modern measuring devices to monitor workpiece quality with millimetre precision. The training will give you a feeling for the precise, accurate work that will be an essential part of your future profession. When sawing, drilling, welding and cutting, compliance with the occupational safety guidelines is essential and is a key element of the training plan.
Instead of a vocational college, you will attend Bochum University of Applied Sciences, where you will consolidate your knowledge of mechanical engineering and mechatronics. The content of your degree will include, for example, thermodynamics, construction technology and materials technology.
Are you interested in a diverse apprenticeship that is anything but boring, and are you motivated to come and work with us? Then an apprenticeship at OGE is exactly the right choice for you. We look forward to your application!
You can find all our apprenticeship vacancies here:
Your apprenticeship at a glance
Duration of the apprenticeship
Two years (reductions possible). The apprenticeship begins every year in July.
Location of the apprenticeship
In Essen, in Open Grid Europe's own apprentices' workshop, at the Altenessen site and at Bochum University of Applied Sciences. This apprenticeship does not require attendance at a vocational college.
Your degree course
At Bochum University of Applied Sciences you will follow the degree course in Mechanical Engineering and Mechatronics and will gain a Bachelor of Engineering upon completing it after nine semesters.
During the two-year apprenticeship you will spend three days a week in the company and two days at Bochum University of Applied Sciences. After that, you will complete five semesters of full-time study, during which you will learn about the engineering-related work of OGE as part of project and research papers. It is also possible to get support with the bachelor dissertation.
Who we're looking for
A completed upper secondary school education or above, with good grades in physics, maths and German
Interest in gaining a double qualification through a parallel apprenticeship and degree course
An interest in engineering-related activities
Interest in technical tasks and manual work
Interest in mathematical and physical correlations
Interest in manual work on and machining of metals
Interest in maintenance work on plant, equipment and machinery
Enjoyment of teamwork and concentrated work alone

What we offer
Intensive support during your apprenticeship
Possibility of gaining a double qualification by doing an apprenticeship and a degree course at the same time
A meet-up day before your apprenticeship, an exciting induction week together with all other new apprentices and various seminars during the apprenticeship period
Low-cost use of a fitness studio in Essen
Lunch in the company's own canteen at the Essen sites
Attractive fringe benefits
Joint activities with colleagues, such as team events, company runs, parties and much more