About us
Expanding expertise: With strategic stakes in other businesses.
Part of our network consists of pipelines owned by other pipeline companies which we co-own together with partner companies: We also hold stakes in further companies that provide services for the transportation of natural gas or operate in areas where natural gas expertise is required. We are driving the transformation from natural gas to hydrogen and are co-founders: for more innovative power and economic solutions.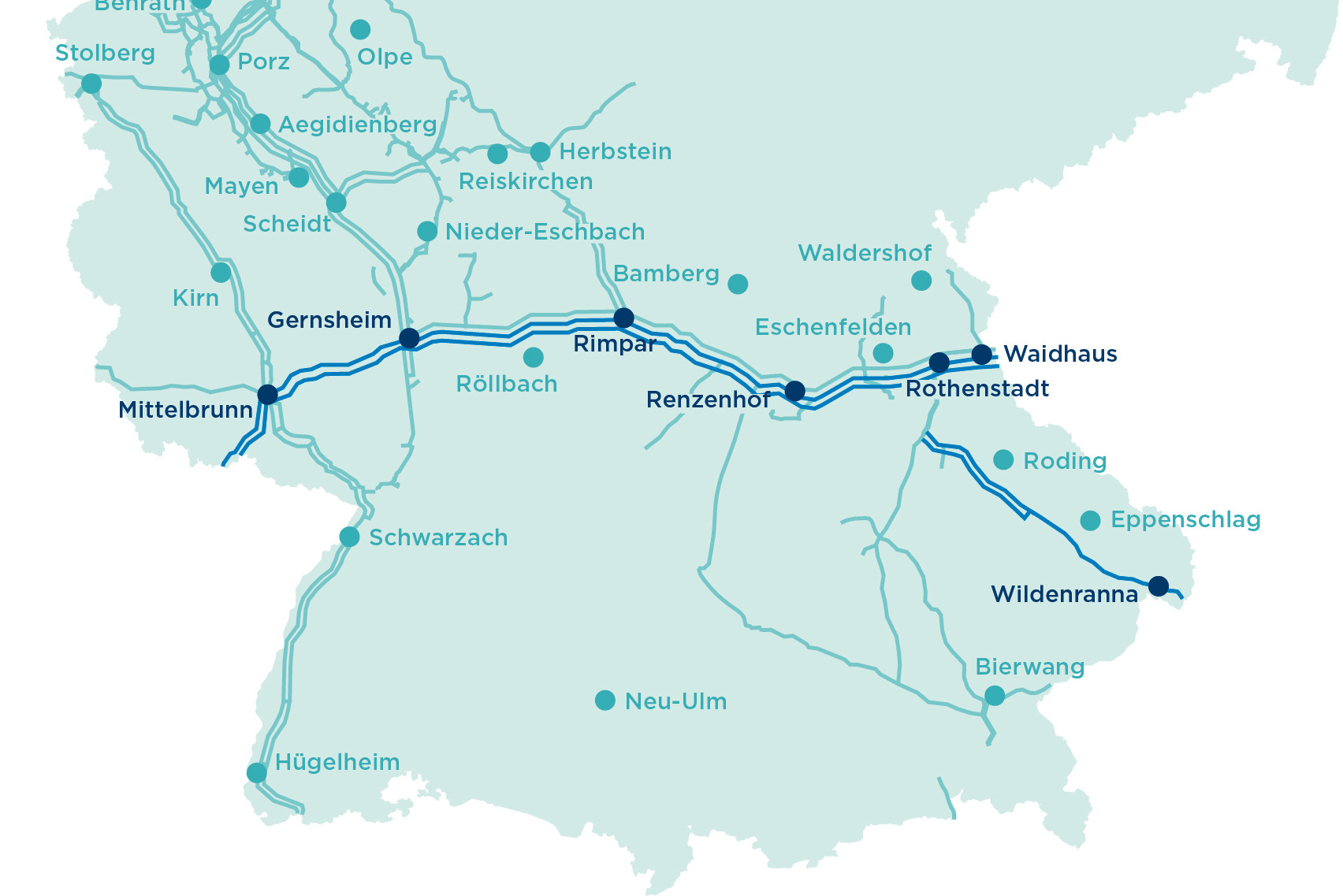 MEGAL
Mittel-Europäische-Gasleitungs­gesellschaft

Mittel-Europäische Gasleitungsgesellschaft (MEGAL) is a joint venture company established by OGE and GRTgaz Deutschland.
MEGAL owns a pipeline system consisting of a double pipeline from the Czech to the French border and a southern branch. Both pipeline systems meet via a connecting pipeline in Rothenstadt. Work on the line was started in 1975, and it was commissioned in 1980. This makes MEGAL one of the major transit pipelines for natural gas in Germany.
TENP
Trans Europa Naturgas Pipeline
Trans Europa Naturgas Pipeline (TENP) is a joint venture by OGE and Fluxys TENP, a subsidiary of the Belgian company Fluxys.
The initial pipeline system was built from 1972 to 1974 and runs from the Dutch to the Swiss border. TENP is used to take natural gas from the Netherlands to Switzerland and further on to Italy, for gas shipments to and from Belgium and to supply the German market.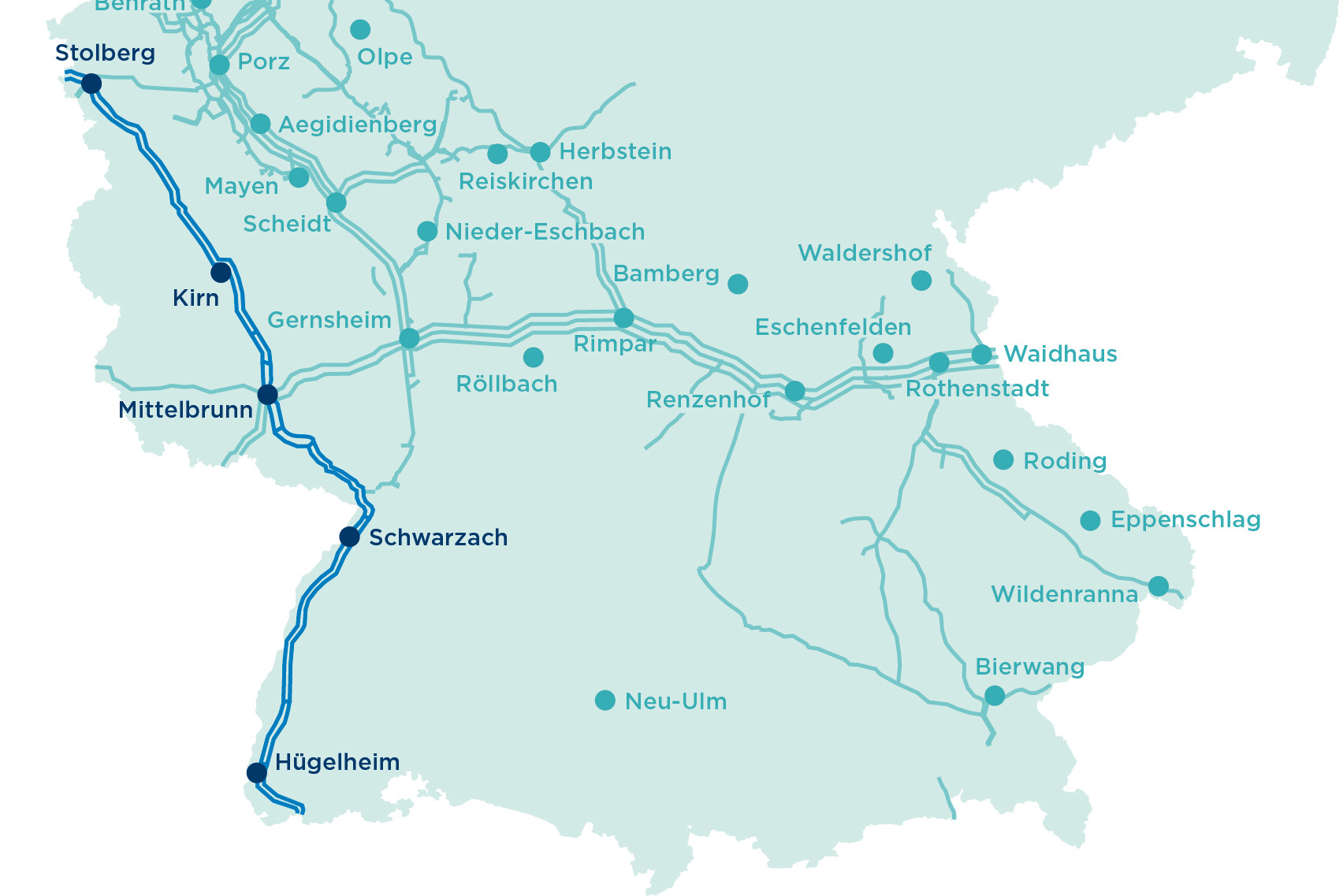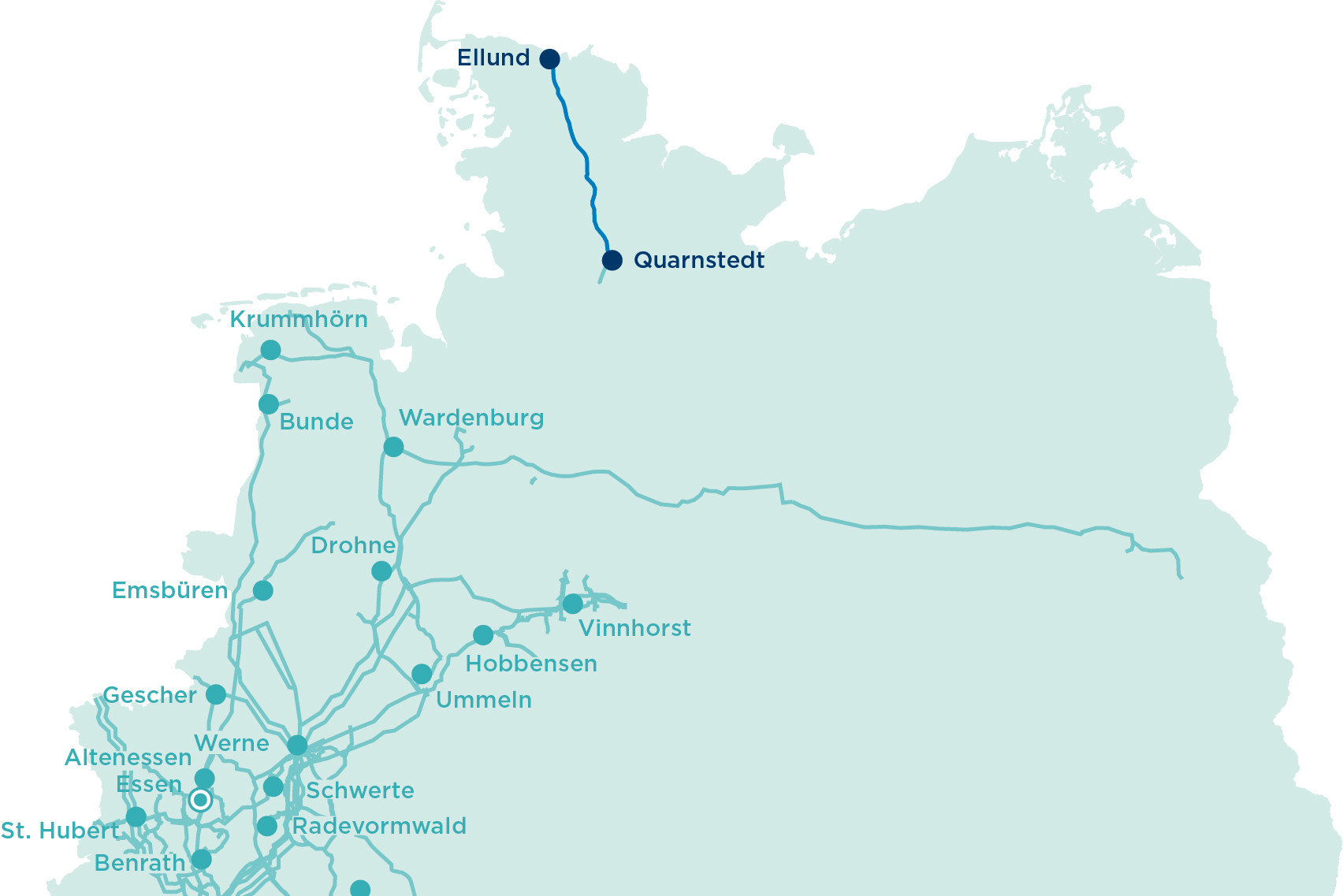 DEUDAN
Deutsch/Dänische Erdgastransport-Gesellschaft

Deutsch-Dänische Erdgastransport-Gesellschaft (DEUDAN) is a joint venture between Gasunie Deutschland and OGE.
The pipeline system was commissioned in the mid-1980s and expanded in 1996. DEUDAN can transport from Denmark to Germany as well as from Germany to Denmark.
NETRA
Norddeutsche Erdgas Transversale
NETRA (Norddeutsche Erdgas Transversale) is the owner of a natural gas pipeline running from the gas import terminal on the North Sea coast near Dornum to Salzwedel in Saxony-Anhalt.
The pipeline was commissioned in 1995 and has since seen a number of new compressor systems installed. NETRA is mainly used to ship Norwegian natural gas to Germany. Its shareholders are OGE and Gasunie Deutschland.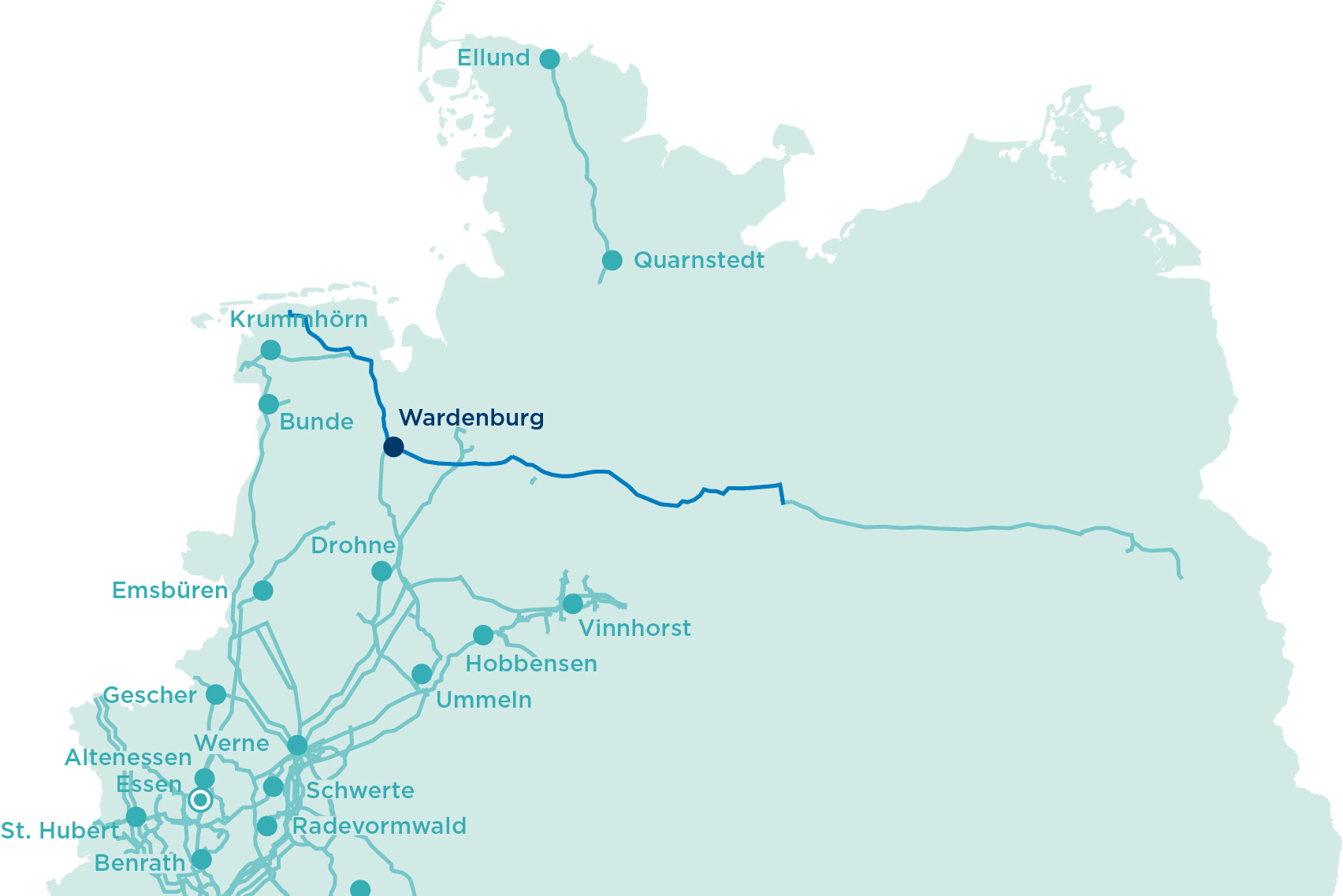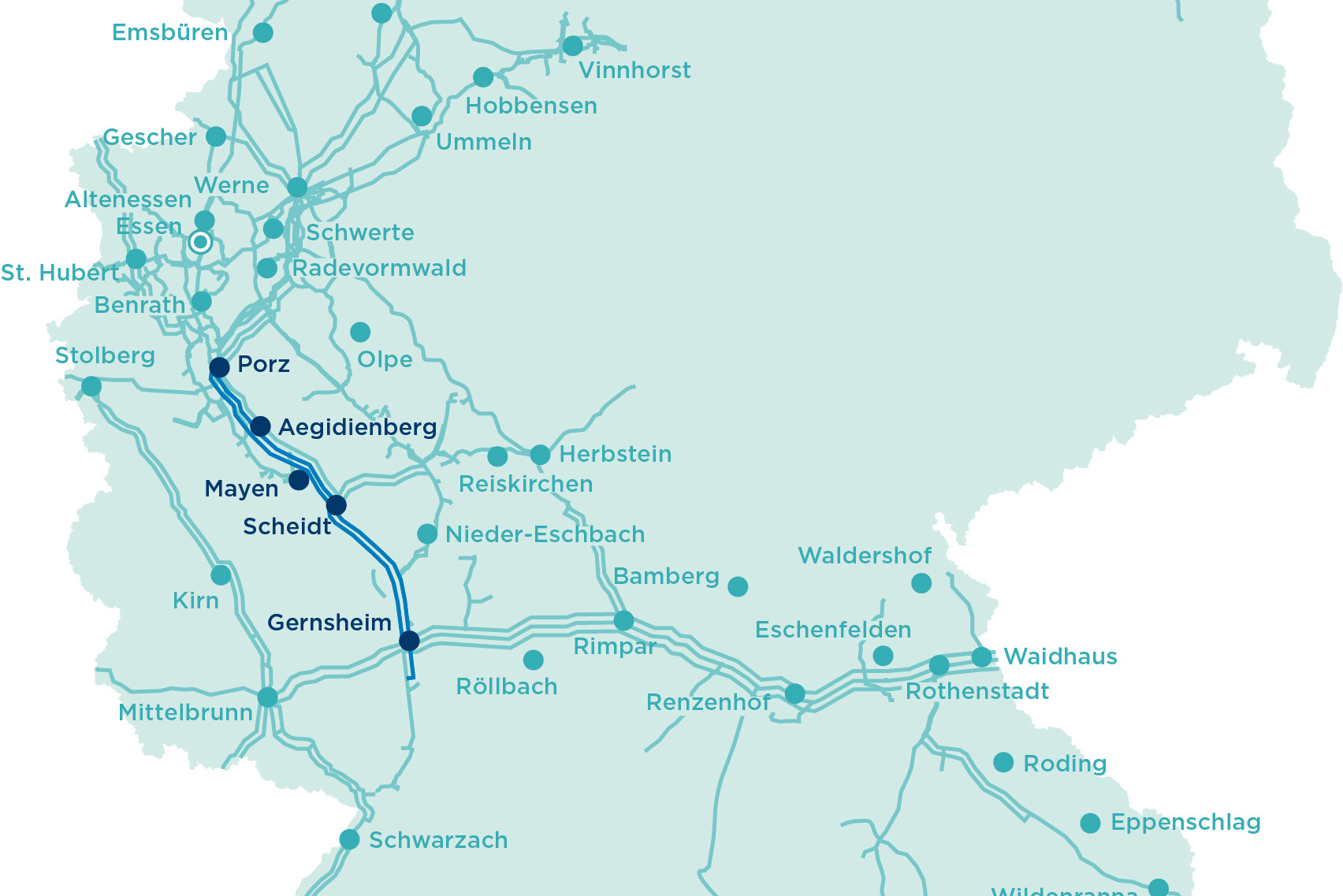 METG
Mittelrheinische Erdgastransport­leitungsgesellschaft

The piplines of Mittelrheinische Erdgastransport­leitungsgesellschaft (METG) run from Bergisch Gladbach to Gernsheim/Lampertheim.
The METG pipeline system was commissioned in 1968. It is connected to the NETG system and is used to transport natural gas to western and south-western Germany. METG is now owned solely by OGE.
NETG
Nordrheinische Erdgastransport­leitungsgesellschaft
The pipelines of Nordrheinische Erdgastransport­leitungsgesellschaft (NETG) run from Elten on the Dutch border to Bergisch Gladbach.
The pipelines were commissioned in 1967 and serve to transport natural gas to western and south-western Germany. NETG is a joint venture of Thyssengas and OGE.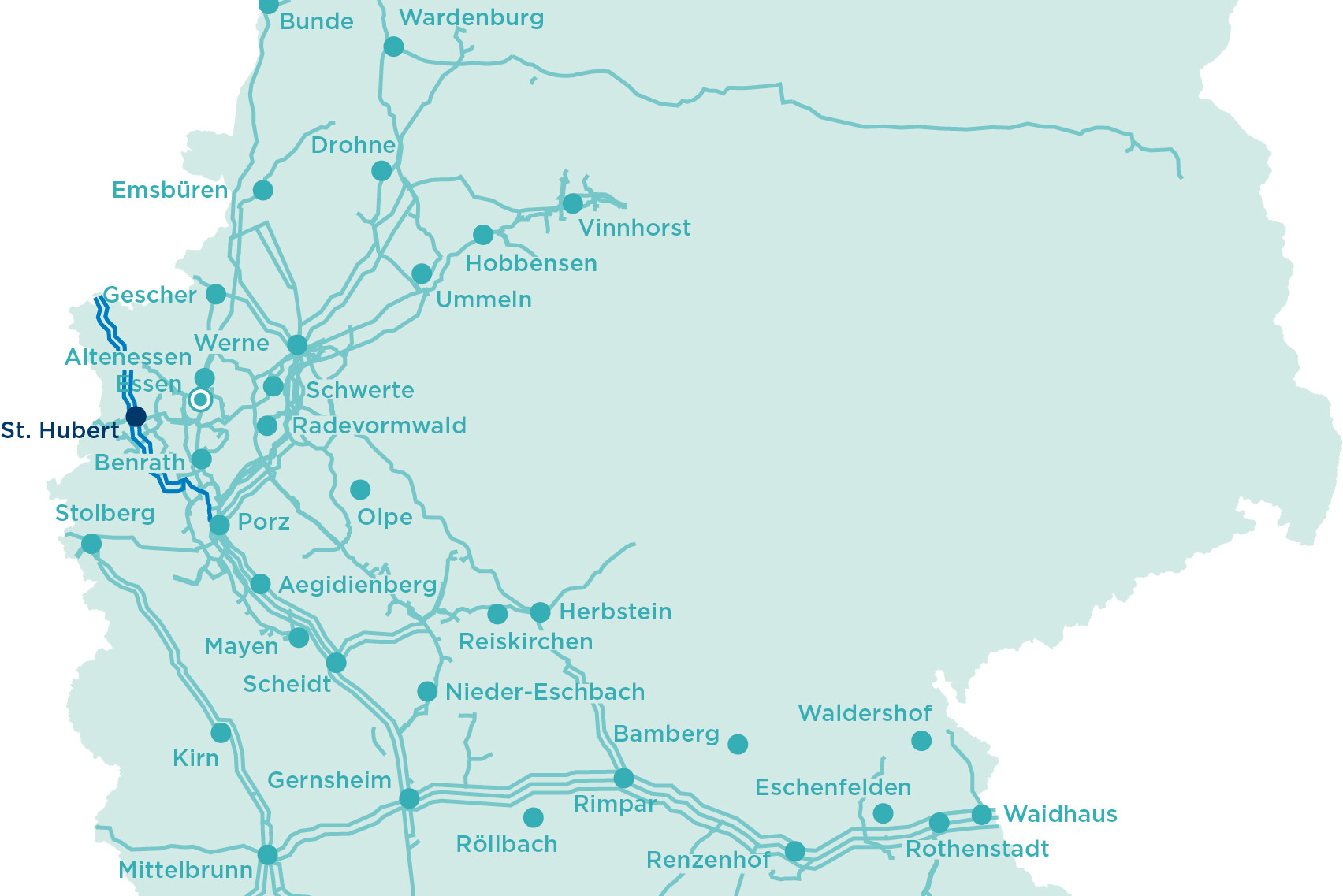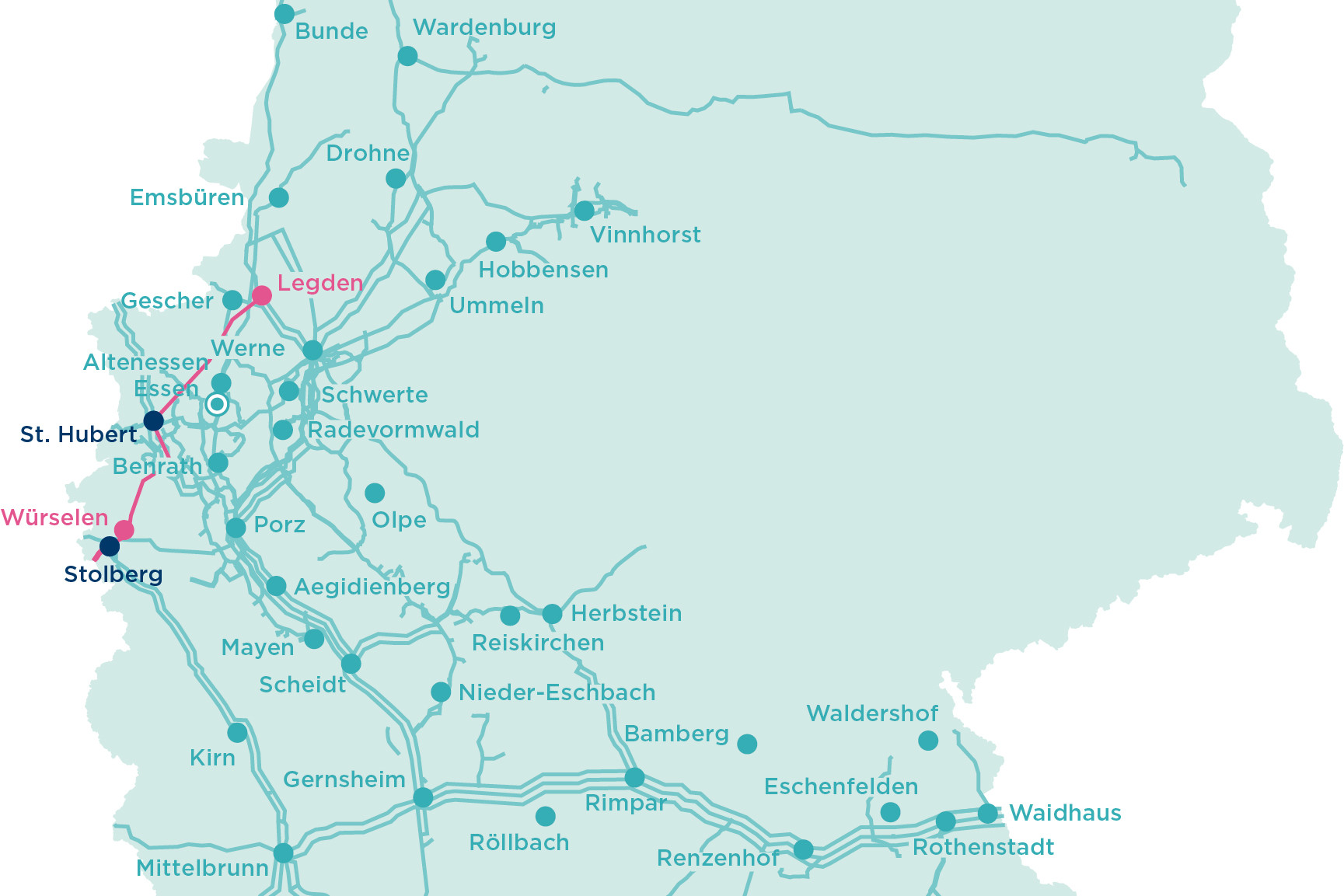 ZEELINK
ZEELINK is a joint venture established by OGE and Thyssengas.
The 216 km gas pipeline was commissioned in March 2021. It runs from Lichtenbusch near Aachen to Legden in the Münsterland. ZEELINK is needed for the market area conversion from L-gas to H-gas and is part of the Gas Network Development Plan.
ZEELINK also includes two compressor stations in Würselen near Aachen and in Legden (under construction).
For more information go to www.zeelink.de
Trading Hub Europe
Trading Hub Europe GmbH is the market area manager for the common market area in Germany. The German market area Trading Hub Europe will be established by merging the previous two market areas NetConnect Germany and GASPOOL on October 1st 2021.
All German transmission system operators are cooperating within Trading Hub Europe and are operating one common market area.
Trading Hub Europe GmbH offers balancing group and control energy management services, operates the virtual trading point and ensures the online provision of accounting and control energy data. The services are designed for network operators and transportation customers (shippers) alike.
For more information go to www.tradinghub.eu
PLEdoc
PLEdoc makes complex data easy to use and turns unwieldy data into valuable information. The company is a competent and innovative partner with more than 25 years of experience.
As a fully owned subsidiary of OGE, one Europe's leading gas transmission system operators, it sets standards in geodata management, technical documentation and network information systems.
The company also advises customers on data management based on intelligent information systems across all stages of the life cycle of a plant or network.
Facts and background
Established in 1992 as a subsidiary of PipeLine Engineering (PLE)
Since 2010 a fully owned subsidiary of Open Grid Europe GmbH (OGE)
About 170 employees
Headquartered in Essen
Certified according to DIN EN ISO 9001:2015
For more information go to www.pledoc.de.
PRISMA
European Capacity Platform
PRISMA was founded by major European transmission system operators (TSOs) from Austria, Belgium, Denmark, Germany, France, Italy and the Netherlands with the aim of creating a joint European capacity platform.
Launched in April 2013, PRISMA is the first platform to have implemented large parts of ENTSOG's Network Code on Capacity Allocation Mechanisms, the future market rules for allocating capacity on gas transmission pipelines.
35 European TSOs from Austria, Belgium, Denmark, France, Germany, Italy, the Netherlands, Poland, Portugal and Spain are currently connected to the platform and market transportation capacity via PRISMA. 22 of them are PRISMA shareholders.
With its harmonised capacity products and auction mechanisms and its ability to serve a large number of TSO-backend systems in accordance with ENTSOG's CAM Network Code, PRISMA is a major step towards an integrated European gas market.
For more information go to www.prisma-capacity.eu.
LIWACOM
LIWACOM Informationstechnik has been providing high-quality software products and services for the international gas industry for more than 20 years.
Gas industry expertise and quality products with a high practical value are the pillars of its success.
For more information go to www.liwacom.de.
Line WORX
Line WORX is a young subsidiary of OGE. It has been set up to pool and market various activities relating to the transportation of natural gas.
Currently, Line WORX holds the stake in GasLINE.
GasLINE
"GasLINE Telekommunikationsnetzgesellschaft deutscher Gasversorgungsunternehmen mbH & Co. KG" was established in 1996. It owns a highly integrated network of fibre-optic cables, selling dark fibre services to national and international telecommunications companies.
For more information go to www.gasline.de.
H2UB
The H2UB project has been in the ramp-up phase since October 2021 and is funded by the Ministry of Economic Affairs, Industry, Climate Action and Energy of the State of North Rhine-Westphalia. The shareholders are OGE, the RAG Foundation and TÜV SÜD. This five-year project, initiated by OGE, is intended to create an innovation cluster with Europe-wide impact. The H2UB connects start-ups with established companies and research institutions, reaching from North Rhine-Westphalia out into Germany and Europe. With various digital and analogue events, innovative matchmaking formats and an accelerator programme geared specifically towards start-ups, the H2UB links up the dynamics of the scene with the research- and corporation-driven hydrogen economy.
For more information, go to H2UB
evety
evety was founded by consultants and engineers in May 2020 as a joint venture of OGE, TÜV SÜD and Horváth & Partners and combines the competences of the three partners. The aim is to offer solutions for the application of hydrogen technologies. evety boasts practical consulting, conceptual and project expertise as well as competence in planning, commissioning and operation. The portfolio is aimed specifically at companies in industry, logistics, mobility and energy supply that want to utilise the potential of hydrogen technologies. At the same time, evety accompanies customers at every point of the H2 value chain from development to application.
For more information, go to www.evety.com