Vocational training
Electronics technician for operating technology: Your job full of energy and passion for our business.
Are you interested in how natural gas makes its way to people and who transports it? Well that's what we do! With our long-distance pipeline network covering 12,000 km, we are one of Europe's leading gas transportation companies. To ensure it all functions well, we need people on both the technical and the administrative sides. And that's where you come in: As an electronics technician, you'll help us ensure our electrical systems work, thereby supporting our entire business.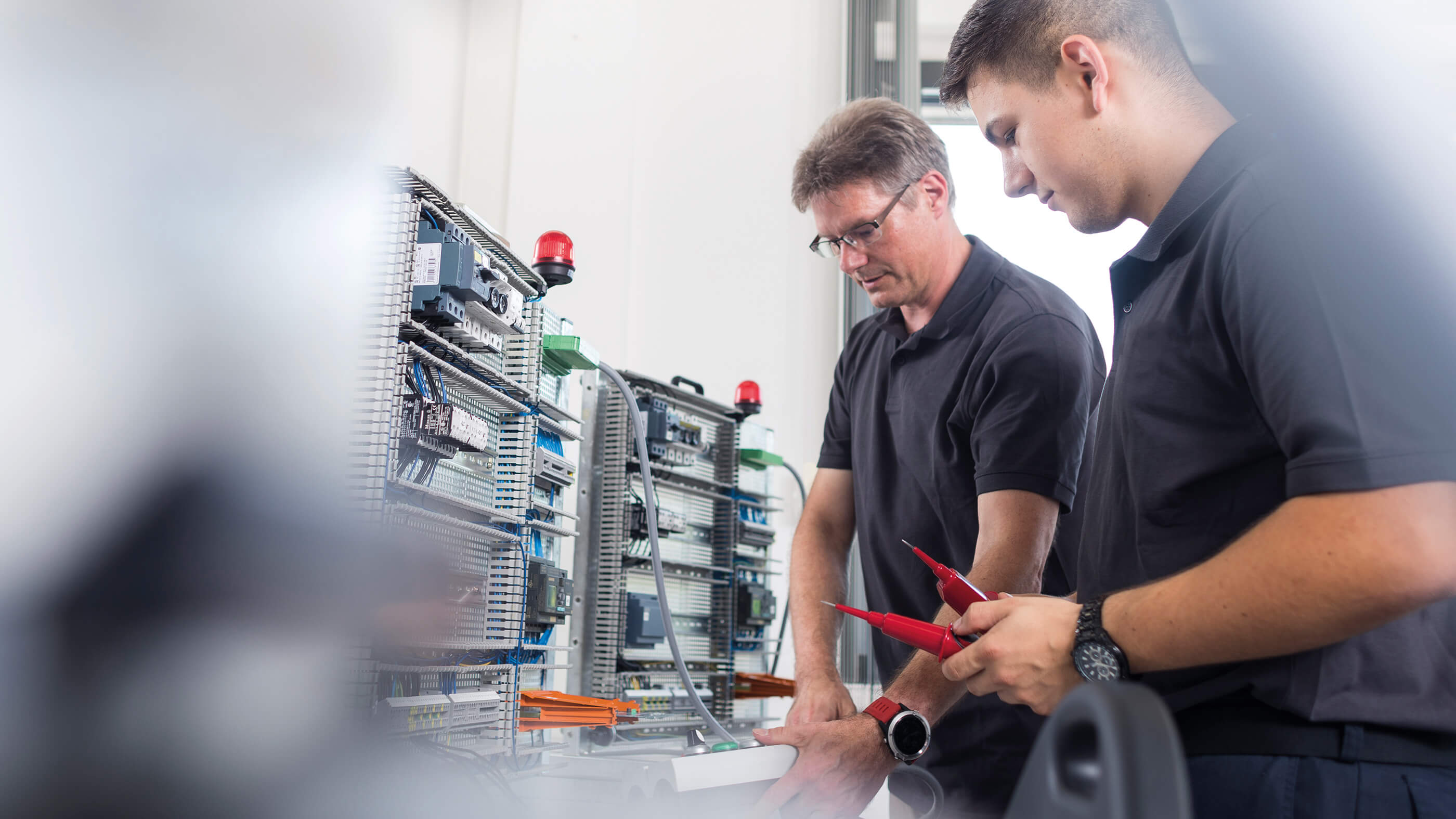 Our electrical systems supply our plants and equipment with power. If a system malfunctions, like detectives our electronics technicians go on the hunt for disruptions to the system. They are all-rounders, who programme, configure and check the systems and safety installations. Armed with modern technology, they set about finding the error. Through intensive inspection, regular maintenance and continual improvement, we thus avoid stoppages.
When training as an electronics technician for operating technology at OGE, you first learn the important basic information in order to develop a broad basis of knowledge and skills. This includes calculating, scaling, building and sizing electronic switches, assembling and wiring devices and machines and much more. You will be taught about the specifics of electrical energy provision and will also learn to program controls. An important component of your training is occupational safety. Guidelines and safety measures when dealing with electrical and electronic circuits must be adhered to at all times.
Are you interested in a varied apprenticeship that is anything but boring, and are you motivated to come and work with us? Then an apprenticeship at OGE is exactly the right choice for you. We look forward to your application!
You can find all our apprenticeship vacancies here:
Your apprenticeship at a glance
Duration of the apprenticeship
Your apprenticeship begins in August of any given year. It normally takes three and a half years, but this can be reduced in certain circumstances.
Location of the apprenticeship
This apprenticeship is offered at various different sites operated by OGE, although it is not available at every site every year. At out Altenessen site, for example, the apprenticeship for electronics technicians for operating technology is offered biennially in each even-numbered year.
You should therefore state your preferred apprenticeship location when submitting your application. This will also determine the location of the vocational college.
Who we're looking for
A completed school education including a qualification at high-school level or above, with good grades in German and maths
Interest in technical tasks and manual work
Good understanding of mathematical and physical correlations
Enjoyment of working with electrics and electronics
Interest in using measuring devices and computers, as well as maintenance work on devices, machines and systems
Capacity for teamwork and concentrated work alone
What we offer
Intensive support during your apprenticeship
A meet-up day before your apprenticeship, an exciting induction week together with all other new apprentices and various seminars during the apprenticeship period
Low-cost use of a fitness studio in Essen
Lunch in the company's own canteen at the Essen sites
Attractive fringe benefits
Joint activities with colleagues, such as team events, company runs, parties and much more