Network products
Repair work with no loss of natural gas:
Cost-effective and environmentally friendly with mobile compressors.
Repair work on the natural gas network often results in natural gas escaping into the atmosphere from the isolated pipe section. This is undesirable from both an economical and an ecological perspective, but we have a solution: our mobile compressors, which pump the natural gas into other pipeline systems.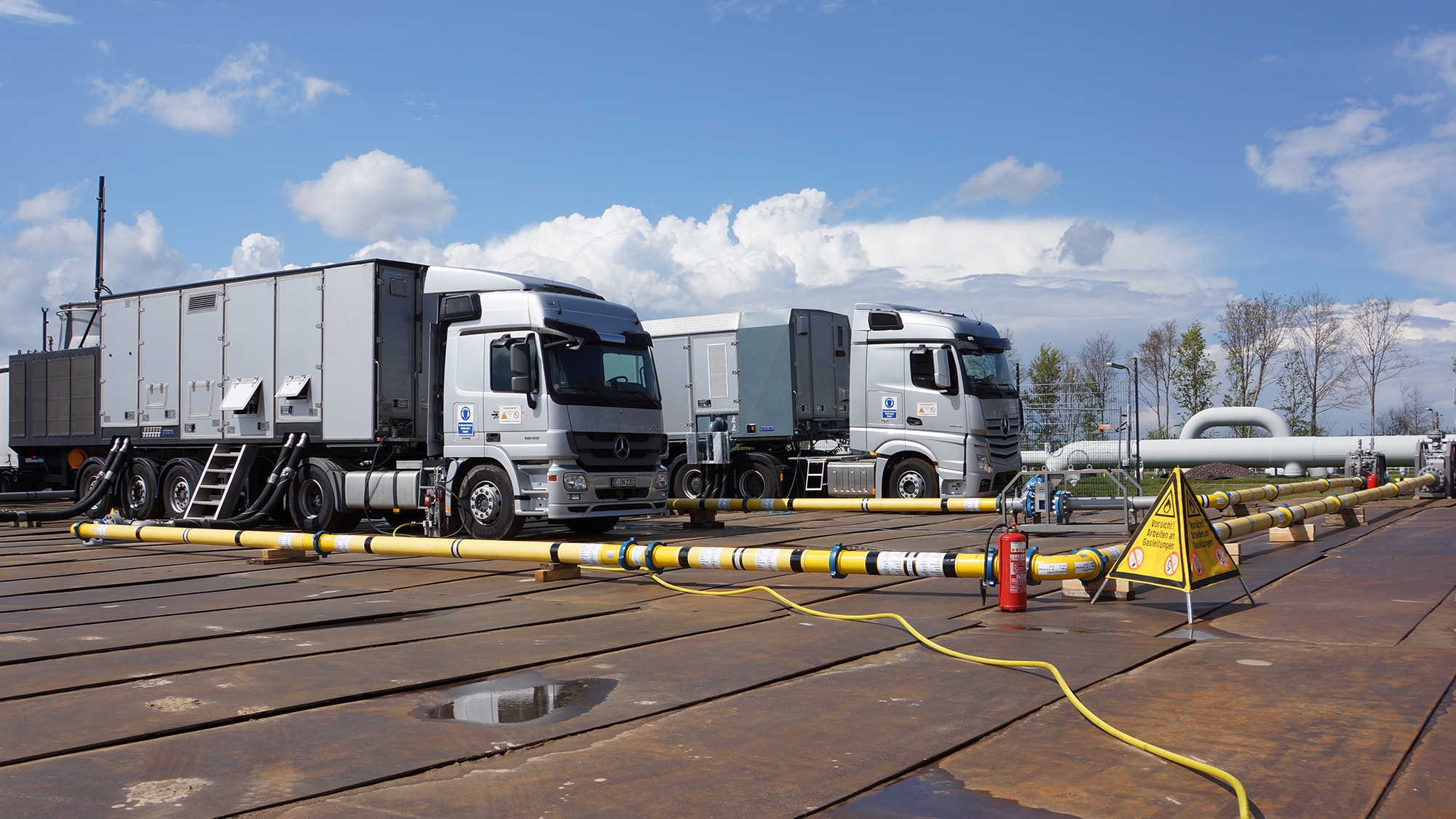 Transferring the natural gas makes economic sense, guarantees responsible handling of this primary energy source, and makes a substantial contribution towards protecting the environment.
We will be happy to send our mobile compressors to wherever maintenance work is being carried out on your network. The systems work individually or in parallel for the utmost efficiency. Connection points for the mobile compressors are available in the area of the main line valves, for example, or can generally be retrofitted.
What mobile compressors can do for you
Pipeline evacuation down to minimum pressures < 3bar
Reduction in methane emissions by up to 95%
Responsible handling of primary energy
High environmental protection effect
Cost savings
Customised turnkey service
Installation or modification of the connection points
Technical details
Two mobile compressors with a drive power of 749 kW each
Towing vehicle: Mercedes-Benz Actors
Dimensions (length x width x height): 14.5 m x 2.5 m x 4.0 m
Total mass: < 40 t
Main drive: Caterpillar gas engine G3512LE
Fuel consumption: 150 Nm3/h (max. 250 Nm3/h) on average
Reciprocating compressor: (LMF BS 604) 2 stages, double-acting
Rating: approx. 640 kW
Delivery: 2,000 to 66,000 m3(n)/h
Suction pressure: 2 – 71 bar
Discharge pressure: max. 72 bar
Are you interested in our products and services?