Date
2 Feb 2022
Location
Krummhörn/Essen
Publisher
OGE
Press release
Hydrogen: OGE pilot launched in Krummhörn examines the station's demand for mobility, heat and electricity
€ 2.81 million in funding provided by the state of Lower Saxony

State environment minister Olaf Lies presents funding notification

Commissioning planned for 2023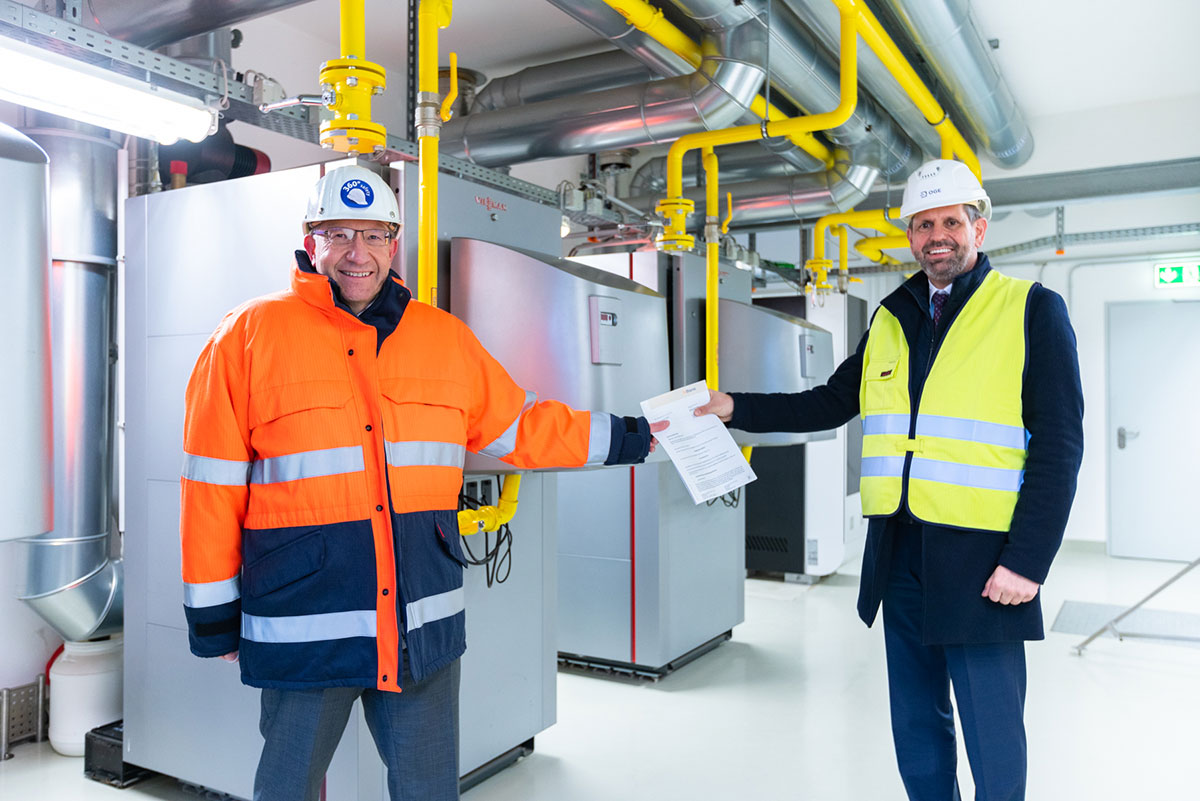 The Minister of the Environment of Lower Saxony, Olaf Lies, today visited the OGE station in Krummhörn/East Frisia to present the official notification of funding of € 2.81 million for the KRUH2 hydrogen pilot at the site. The project is to show how green hydrogen can be produced and stored locally to meet a site's own demand for heat, mobility and electricity.
Minister Olaf Lies said: "Renewable energies are at the heart of climate efforts. We will therefore continue to push for the expansion of onshore and offshore wind as well as photovoltaics. But electricity alone will not work. We need a strategic combination of electricity and gas. Without hydrogen, we will not be able to achieve the climate targets. I am delighted that OGE has embarked on this project to show how hydrogen can be used in the heat, electricity and mobility sectors. That is sector coupling and that is the future of our energy world. It is good to have companies here that want to lead the way in building a hydrogen economy, and we are happy to support them in their endeavours."
Dr Jörg Bergmann, CEO of OGE, described the project as follows: "We want to show here in East Frisia the potential of hydrogen in making the energy transition happen. What is being implemented here on a small scale can serve as a blueprint for a hydrogen economy throughout Germany. I am delighted that the state of Lower Saxony is providing such strong support."
What is planned?
At the site, wind power generated in the region will be converted into hydrogen using an electrolyser. The hydrogen will first be stored and then used in three ways for the site's own needs:
Mobility
OGE will expand its vehicle fleet to include three hydrogen-powered fuel cell vehicles and build the necessary tank refuelling infrastructure.
Heat supply
Condensing boilers at the site will be converted to hydrogen.
Reconversion
A fuel cell will be used to convert the stored hydrogen back into electricity as and when needed.