Vocational training
Application, recruitment test, interview:
How to make your application a success.
The most important thing is that your application is complete. That means it should include a cover letter, CV, your last two employer references and certificates for any internships. We'll also be pleased to receive any other documents that might be of interest to us as an employer.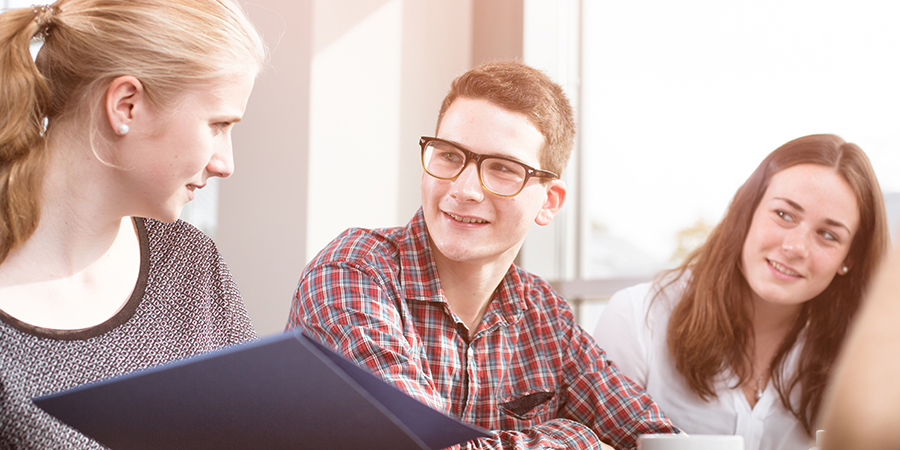 What you should pay attention to in your application documents:
Spelling and grammar
Obvious spelling errors can immediately put people off. It's a good idea to get someone you trust to check your application for you, perhaps a parent, friend or teacher.
Cover letter
First impressions are crucial. The length of your cover letter is not important; it's the content that counts.
Tell us why you're interested in the apprenticeship you've chosen. State the reasons why you're precisely the right candidate for us.
CV
A gap in your CV can sometimes be viewed in an unfavourable light. Make sure your CV includes the following elements:
Personal data (name, date and place of birth, address, marital status, plus a current e-mail address and telephone number)
School education and (prospective) final qualification
Training courses and internships already completed
Periods of unemployment (give reasons for this in the cover letter!)
Additional qualifications (e.g. language courses)
Leisure pursuits and hobbies if you wish
The online recruitment test:
Your recruitment test takes around 60 minutes and is completed online. In it, we ask about things like mathematical knowledge, your language comprehension and job-specific requirements. The main focus of the recruitment test differs depending on the apprenticeship chosen.
Be sure to take enough time to complete the recruitment test. You can interrupt the test after completing each module and log in again at a later point in time.
How to prepare for the interview:
If you do well in the recruitment test then you will attend an interview in person within the following 2-4 weeks. This gives your future trainers, amongst others, a chance to chat to you. Every interview is different, but if you stick to a few basic concepts then you can't go far wrong.
Think up some good answers – and good questions
There are specific standard questions that arise in almost any interview, so you can prepare very well for these and consider what answers you might give. Find out about the company too. You can get a lot of information on our website and in other media, and this will score points for you in the interview. You also need to consider the job profile and think about the sort of questions you'd like to ask us. This helps us gauge your level of interest in us and our company.
Organise your travel in advance
Whether you're travelling by car or by train, allow some extra time in case you run into a traffic jam or your train is delayed. If in doubt, you can even try making the same journey in advance.
Wear an appropriate outfit
Your clothes say more about you at first sight than you would care to believe. That's why you should adapt your outfit to the apprenticeship you're aiming for. If you'll be working in an office, then you can't go wrong with a classic business look. In any case, you should always appear tidy and well-groomed.
Don't be a robot
It is impossible to learn all the answers by heart for an interview, neither is it desirable to do so. Applicants should be assessed for their authenticity, so rigid answers and a lack of facial expression are not helpful here.
An interview can be a serious occasion, but you are not forbidden from laughing and showing a sense of humour. It simply depends on the situation and whom you are talking to. Develop a feel for the situation and be natural. Show us your motivation. Even if you need a moment to think about an answer, that's not a problem.